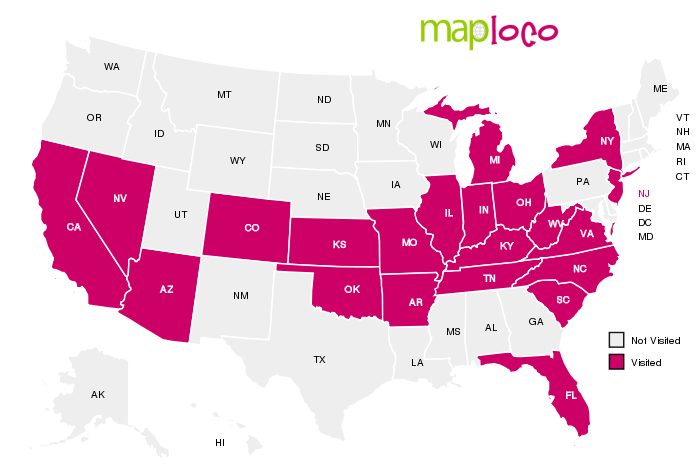 Create Your Own Visited States Map
I found this map maker via my friend (and podcast co-host)
Brittany
. Like her, I didn't include states I just drove through or places I've had flight layovers. One exception is if we were driving through a state but stopped to "play tourist" beyond just stopping for gas or food.
Alabama
Alaska
Arizona-Vacationed here in 2001
Arkansas-Vacationed here in 2002

California-Vacationed here several times (1999, 2005, 2015, 2016)

Colorado-Went to Denver for Bible Bowl championships in 1995/1996'ish?

Connecticut

Florida-Vacationed here more times than I can count

Illinois-Have been to Chicago a couple of times
Indiana-I live here!
Kansas-Played tourist on the way to Oklahoma and on the way to Colorado
Kentucky-Have been here several times for marching band and other stuff
Michigan-Go here once a year for camping
Missouri-Visited the St. Louis Arch in 2003
Nevada-Went to Las Vegas in 2008
New Jersey-Stayed here when we went to NYC in 2002
New York-Visited NYC in 2002
North Carolina-Several vacations including the NASCAR Hall of Fame in 2011
Ohio-Gone to Cincinnati to King's Island several times and to Columbus for concerts
Oklahoma-With my mom in 2003, she was born here
South Carolina-Was just here this year!
Tennessee-Was just here this year!
Virginia-Played tourist on our way to NC to visit family
West Virginia-Played tourist on our way to NC to visit family